Asia Cup 2023
Batting incapability a 'Reality Check' before World Cup, says Shakib
|| CF DESK ||
Bangladesh skipper Shakib al Hasan remarked that the Asia Cup has been a 'Reality Check' before the upcoming World Cup in India.
Near a 15-minute press conference, Shakib answered all the questions in details after Bangladesh's hopes to play the Asia Cup final was shattered with their 21-run defeat to Sri Lanka in their second match of the Super Four phase at R Premadasa Stadium in Colombo Saturday.
The Tigers' lacked patience and determination in the batting unit again flushed down the 'must win' match following their seven-wicket defeat to Pakistan.
Shakib thinks that the tournament has marked where Bangladesh is in the reality of batting.
"I am definitely worried about batting. We have not been batting well for quite some time. There are places to look and think about how to fix it. This tournament has been very useful before the World Cup. We needed a 'reality check'," said the captain.
The Southpaw noticed the flaws between Bangladesh team's play in the bilateral series and the big tournaments.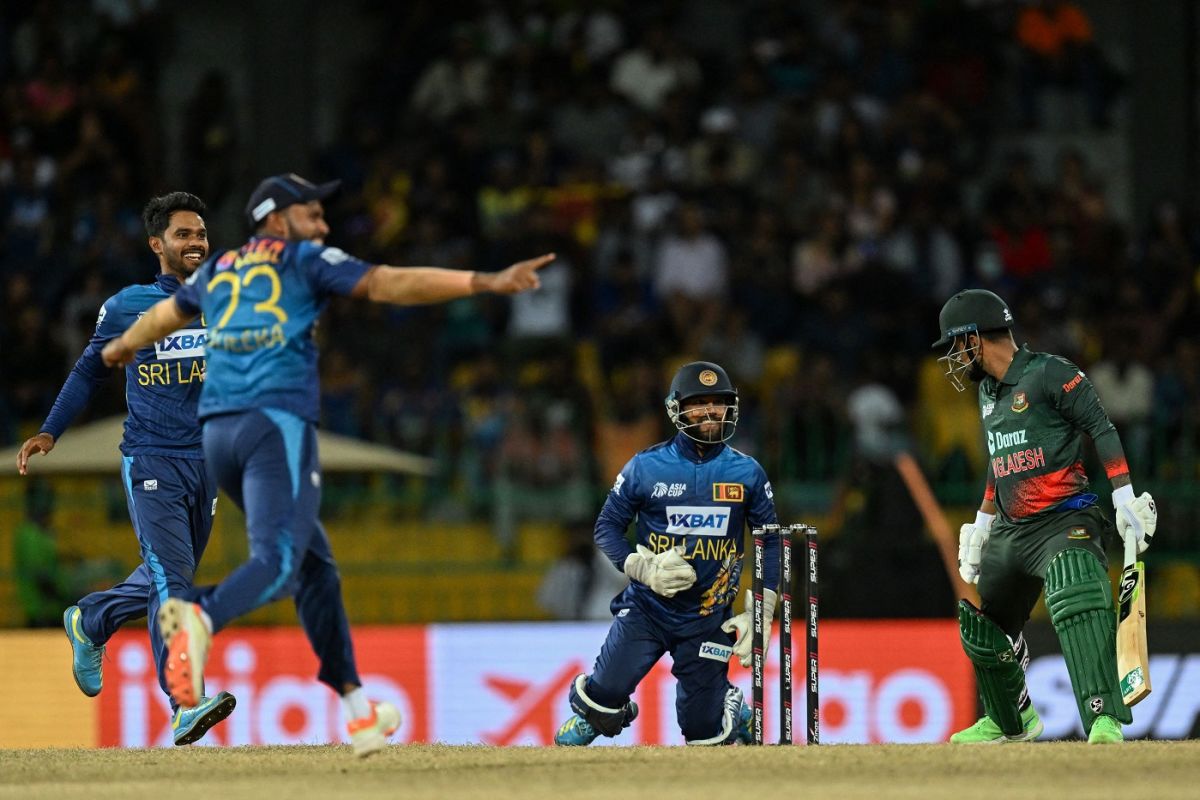 PHOTO: Litton Das is caught behind during the match, AP
"We always play well in the bilateral series. Can't say we were ever a bad team. In such big tournaments we've been tested. Where we never do anything extraordinary. We won three matches in 2007 World Cup, same in 2011 World Cup, in 2015 and 2019."
"Whenever the 'reality check' happens, we fail. It is good that this tournament is held before the World Cup. Everyone must think about how to solve these problems. Maybe it will be better then.'' he added.
Poor shot-selection and lack of responsibility shown by the batters was the highlight of the Bangladesh innings once again.
Opener Naim Shiekh continuing to disappoint and especially on Saturday's dismissal raised a lot of questions about his spot in the XI.
Naim initially appeared to pull on Dasun Shanaka's average bouncer but then became unsure of himself, failing to provide a shot or guide his bat away from the line of the ball. His hands appeared to have stopped as the ball took a top edge off the splice of his blade and nestled inside the wicketkeeper's gloves.
However, Shakib, who also got out from a loose shot, denied to blame Naim only but saw lack of responsibility from his top order.
"There is no point to discuss one wicket. If the top four could have put big partnership on such a tricky wicket, the dressing room would have been much relax and (the team's) confidence would have increased,"
Towhid Hridoy, who played a valiant 82, should have played a match winning innings, according to Tiger's captain.
"We always had to change our game after losing four quick wickets. It was difficult to come back from there. Although there was a big stand (72 for Mushfiqur Rahim and Towhid Hridoy), more stands were needed. Hridoy should have played a match winning innings."
With one match to go against India, Bangladesh need a mathematical miracle for a place in the final on September 17.