Bangladesh A- West Indies A Series
Windies 'A' player faces racial remarks in Sylhet, BCB takes immediate action
|| CF DESK ||
More than 50 professional cricketers from different parts of the world have claimed they were the targets of racial discrimination.
The Federation of International Cricketers' Associations conducted a global poll of more than 400 active players from 11 nations, and the results showed that 14% of them thought they had experienced racial discrimination, according to a report of The Guardian.
An unexpected incident has happened during the ongoing unofficial four-day Test between Bangladesh A and West Indies A at Sylhet International Cricket Stadium today [Wednesday].
There is lack of interest to watch an unofficial match among the audience, however a Bangladesh spectator made a racial remark from the empty stands toward a Windies player, when the home side were suffering batting collapse. In response to Windies' 445 runs, they had lost 6 wickets for 117 runs at that moment.
West Indies 'A' team captain Joshua De Silva has heard those racial words. He immediately went to the umpire Masudur Rahman Mukul and complained about this. After that, Mukul called the reserve umpire Niamur Rashid.
PHOTO: BCB security have taken immediate action, Cricfrenzy
Then he came and told the security officer of Bangladesh Cricket Board (BCB) and action was taken immediately. Law enforcement officers immediately searched for the visitor. He was later taken off the field.
West Indies 'A' captain Joshua De Silva spoke to Cricfrenzy about this after the second day's play.
"I wasn't very sure what the umpire said. There were some racist remarks being passed and we didn't understand, obviously. And the umpire came to me and told me that they were being passing some offensive language, and he dealt with the situation," said De Silva.
"It's always disappointing when those things come about, and I'm very happy it was dealt in a very quick and speedy manner. So, yeah, the right authorities took care of it,"
"We're all equal. Everybody's here to play cricket, and we're coming together for the game we love. And at the end of the day, we're here to do what we love, and that's all we're coming to do" he added.
BLM aka Black Lives Matter movement gained momentum in 2020 during the protests in the USA. The knee is taken to show solidarity towards racism and all forms of social discrimination.
Since then, athletes from different sports take a knee before the game to make a statement against racism.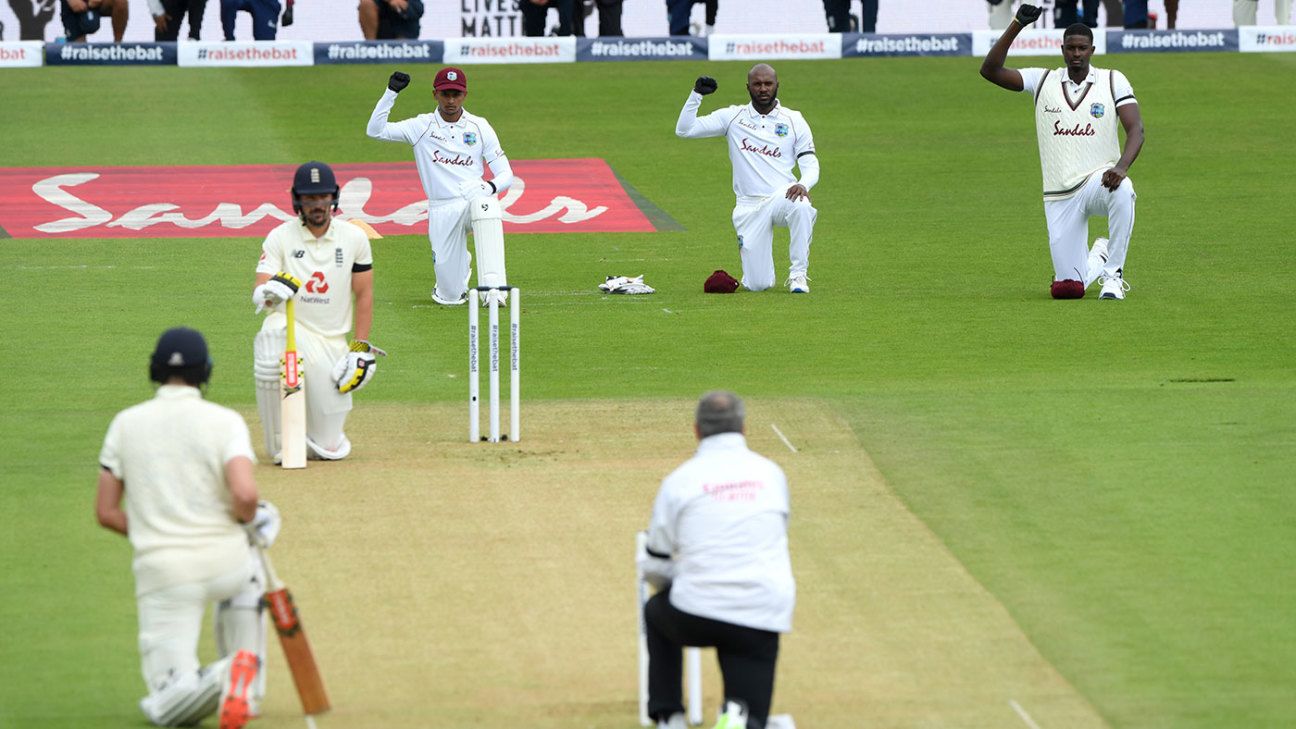 In cricket, the first instance happened in the England vs West Indies Test series in that year. This was the first series after the Covid-19 pandemic break and both teams took a knee before the game.
Real Madrid and Brazilian football star Vinícius has been subjected to racist abuse during a La Liga match most recently against Valencia and the Sports world has been furious about the incident.